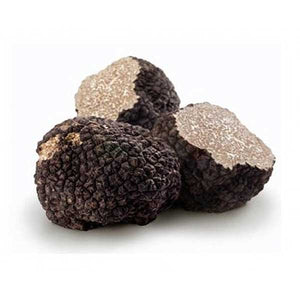 Tuber Uncinatum (Scorzone) / Black Autumn Truffle
Regular price
€22,50
€0,00
Tax included.
Shipping
calculated at checkout.
Black Autumn Truffle
T. Uncinatum Chat.  the Burgundy  truffle is widely spread in France, Italy, the Balkans including Greece and Northern Europe. 
Genealogically it belongs to the exact same species of t. Aestivum / Scorzone, which thought begins fructifying when the life circle of the summer variety ends. The limited artificial cultivation of t. Uncinatum can be explained by the fact that it requires specific conditions, such as shady land in high altitude.
Uncinatum has a very pleasant hazelnut-like aroma. 
The flesh of the truffle (gleba) has a characteristic dark hazel color with whitish thin veins while the external part (peridio) - black coloured  is fully covered with pyramidic warts. 
Fructification: End of August - End of November
(you can increase weight at your Shopping Cart)
For more info on truffle classes please check our FAQ
---
More from this collection